The underground is pleased to announce it's latest development Hack3r Enterprise.
Hack3r Enterprise is a game in which you play the role of a computer hacker, You may have heard of many games like this (Uplink Hacker Elite, Cypher, Slave Hack, Ect....) This game is a bit differant to others, The main feature of the game being the fact that it will be fully online, You will be able to virtually (And I stress virtually) Hack your friends and fo's.
The game Consists of 4 operating system's which I have Yet to figure out decent names for, The first is a completly GUI OS, It has many good features, But the down side to complete GUI is that is has less applications for it and is more designed for the 'Noobs' Then there is another OS that has more command line, But this carries positive benifits, For one it is alot faster and secondly has alot more applications, the other 2 are basically like this but they lack more and more GUI but with possitive benifits.
When you first start you choose your first OS and start the tutorial, There are 3 Basic Applications that you get when you start... Web Browser, Messenger and E-mail, These can all be used to your benifit, The Web browser is where you will do all of your 'underground' shopping and research, and then you will use app's that you 'download' to 'hack' and attack your friends machines or NPC machines.
As you go about your hacking duties you will hack more and more machines earning more and more money. Nut watch out you do not leave behind traces, as any traces that lead back to you could get you busted (Loose alot of money and Not being able to play for 3 hours (Yes we're bringing an edge of realism to this) ) or you may even be hacked back!
Here are some screen shots of the basic Gui and I will make the GUI downloadable soon for anyone who would like to test it:
Starting the game:
Login Menu:
Choose OS:
Loading OS: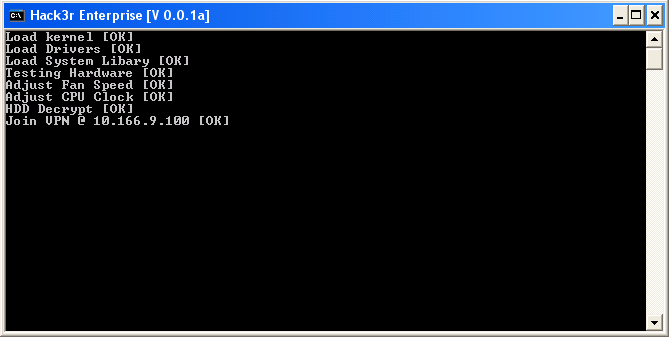 OS GUI:

_________________
Forum Founder
Web-Admin
Forum Moderator
------------------------------
Underground Activator
-------------------------------
ภєשєг ђคςк ค ђคςкєг
Admin





Posts

: 161


Join date

: 2009-05-12


Age

: 26


Location

: Cyberspace




_________________
Spread my word:

ภєשєг ђคςк ค ђคςкєг

- Matsen
R4TT3R





Posts

: 75


Join date

: 2009-05-24





Similar topics
---
Permissions in this forum:
You
cannot
reply to topics in this forum